The Aquapulse AQ1B!
The AQUAPULSE 1B underwater metal detector has featured in every conceivable underwater application around the world in the past decade with an exceptional degree of success.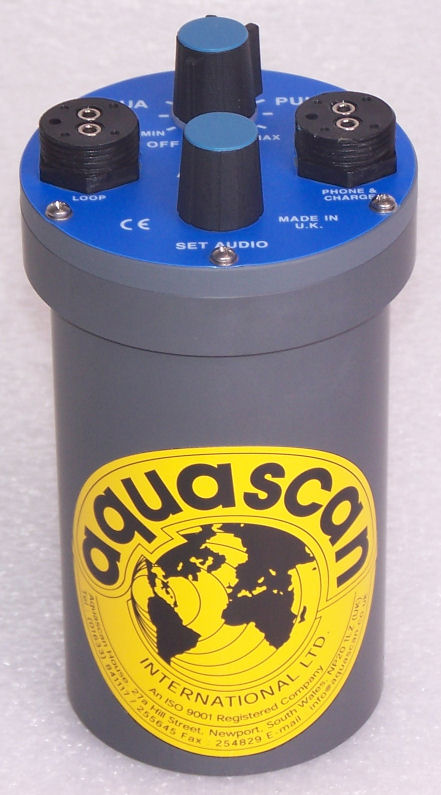 The AQUAPULSE 1B (38cm) is an underwater metal detector employing a large diameter search head mounted on the end of a telescopic arm. The 1B can detect objects up to a range of 3m (10ft). This makes it the most powerful unit on the market. Apart from the sensitivity threshold control, the 1B underwater metal detector has an additional control to enable the whole range of AQUAPULSE coils and accessories to be used with it. The same control can be used to reject surface clutter such as ring pulls, cigarette foil etc., often found buried in the sand or mud. The internal NiMH battery pack allows in the order of 10 hours operation.
For a complete list of the available kits and accessories, please go to our download page.

Used with our new Jet Probe burrowing accessory, the Aquapulse can be used to pinpoint buried objects in up to 3m of sand or sediment, thus minimising the amount of dredging required. The objects depth of burial can also be determined

Police/Armed Forces

Provides a positive search and location tool for recovery of all types of metallic weapons & arms etc. Effective in a wide range of situations, particularly low visibility or where items have become camouflaged or buried.

Salvage

Recovery of a wide range of items including lost anchors, chains, tools outboards etc., plus the recovery of cargo and valuables from scattered and buried wrecks.

Survey

Wide range of commercial underwater survey tasks including location and tracking of cables, pipelines and general metallic debris.

Archaeology

Meets the need for a general purpose marine survey tool, specifically for locating and mapping sites of archaeological interest in terms of the distribution of metallic objects.

• GOOD PINPOINTING ABILITY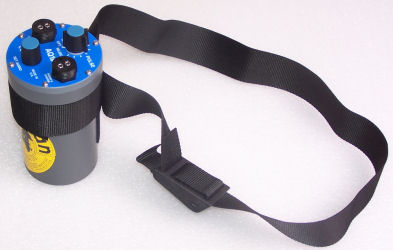 • 100M DEPTH CAPABILITY
• RECHARGABLE BATTERIES
• 8-10 HOURS OPERATION
• NO LOSS OF RANGE AT SEA
• QUICK RELEASE HARNESS
• RUGGED CONNECTORS
The system is designed to be mounted in 3 ways - belt mounted (pictured above), clipped to a karabiner or mounted to the optional armsaver. A velco system is utilised to assist with attaching each mounting method, and also holds the unit secure when in operation. Recent improvements to the design make it much more robust than previous models.
AQ1B brochure
AQ1B options catalogue
For the latest price list, please click here